Products
Neutral Grounding Resistance Monitoring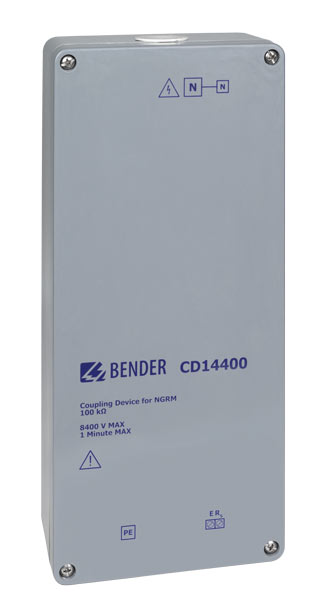 CD14400
The CD14400 can be used with an NGR monitor in HRG systems with a system voltage ULL up to 14.4 kV (UNGR = 8.4 kV).
The maximum operating altitude is 5000 m above mean sea level.
Features
Applications
Ordering information
Downloads
Coupling device for NGRM
Range of use up to 14400 V system voltage
Application up to 5000 m
IP54
The coupling device is suitable for HRG applications up to a system voltage of 14400 V.
Variants of CD14400
| | | |
| --- | --- | --- |
| CD14400 | Up to ULL =14400 V (UNGR = 8400 V) | B98039054 |
Downloads for CD14400
| | Category | Product | Language | Size | Download |
| --- | --- | --- | --- | --- | --- |