Service & support
Rapid assistance
Fast, independent problem-solving
Here you can get prompt help:
You can access our Help database in our FAQs (Frequently Asked Questions) section 365 days a year/24 hours a day online. It offers you assistance with all queries relating to the function and application of Bender equipment and systems.
Our experts are on hand to provide you help and advice by telephone.
Alternatively, you can send us a trouble ticket or a technical question.
Bender-Service - your contact persons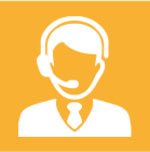 First Level Support
Technical support by phone or e-mail for all Bender products:
Application
Commissioning
Troubleshooting
Creation of visualisation solutions for Bender products.
*Available from 07:00 a.m. to 8:00 p.m. on 365 days of the year (CET/UTC+1)
Mon to Thu from 7.00 a.m. to 4.00 p.m., Fri from 7.00 a.m. to 1.00 p.m. (CET/UTC+1)
Mon to Thu from 7.00 a.m. to 4.00 p.m., Fri from 7.00 a.m. to 1.00 p.m. (CET/UTC+1)