Products
Switching equipment and IPS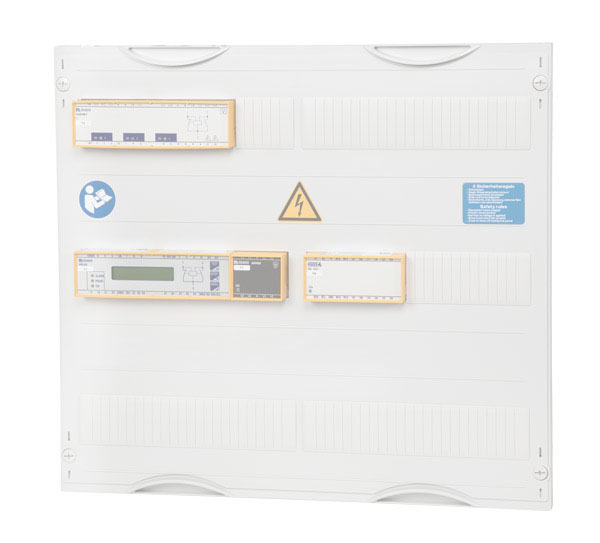 USC710D4
Main distribution boards in medical locations are necessary whenever
several buildings are concerned

the main distribution is located in a separate building

a hospital, for instance, is divided into various edificial sections

building sections are connected to each other by use of extraordinary long line which may determine a disruption of the supply conductor
DIN VDE 0100-710:2002-11, section 710.537.6.2 and IEC 60364-7-710 defines the specification of automatic changeover devices in a main distribution board. It has particularly to be considered:
Changeover devices in main distributions are installed within the area of safety power supply source

Voltage monitoring is carried out with all active conductors

Switching devices are safely interlocked to each other

Control circuits are equipped with a "single-fault-safety" as to section 710.521.6 resp. DIN VDE 0100-557

In case contactors are employed as switching devices. This means the max. possible rated operational current derives as product from factor 0.45 and the operational current of the contractor (AC-3) to prevent the contacts to weld during a short circuit.
Features
Applications
Accessories
Ordering information
Downloads
For the installation of individual changeover devices with load and/or circuit-breaker function
For load switches of different manufacture
Plug-and-play-mounted onto standard DIN rail racks
"Single-fault-safety" as to DIN VDE 0100-710:2002-11
Optional accessories for USC710D4
Function
Un
Type
Art. No.
Relay module for alarm contact extension (option)
AC 24 V
AC 230 V
URC-11
URC-14
B92057120
B92057121
Measuring current transformer for N conductor monitoring
–
CTAC35
CTAC60
B98110007
B98110017
Variants of USC710D4
| | | | | | | |
| --- | --- | --- | --- | --- | --- | --- |
| USC710D4-01-HA | 3(N) AC 400/230 V | < 5 A | < 5 A | | 30 W* | B92057101 |
| USC710D4-02-HA | 3(N) AC 400/230 V | < 2 A | < 2 A | | 24 W* | B92057102 |
| USC710D4-03-HA | 3(N) AC 400/230 V | < 5 A | < 5 A | for generator operator | 33 W* | B92057103 |
| USC710D4-04-HA | 3(N) AC 400/230 V | < 2 A | < 2 A | for generator operator | 27 W* | B92057104 |
| USC710D4-05-HA | 3(N) AC 400/230 V | | | control voltage 60 V | 30 W* | B92057105 |
| USC710D4-07-HA | 3(N) AC 400/230 V | < 2 A | < 5 A | without open-circuit monitoring | 29 W* | B92057107 |
| USC710D4-08-HA | 3(N) AC 400/230 V | < 2 A | < 5 A | open-circuit monitoring 24 V | 29 W* | B92057108 |
* plus power dissipation of the circuit-breaker
Downloads for USC710D4
| | Category | Product | Language | Size | Download |
| --- | --- | --- | --- | --- | --- |