Sun Feb 17 15:58:30 2019
Products
Residual current monitoring
Sun Feb 17 15:58:30 2019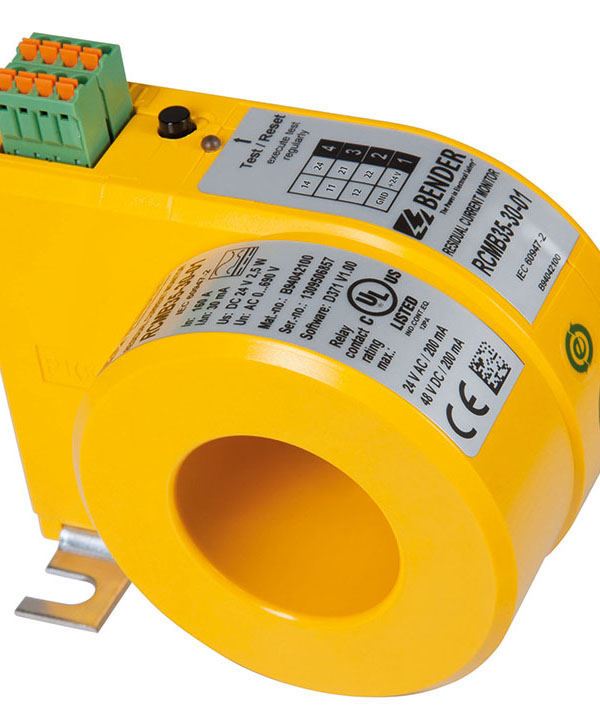 LINETRAXX® RCMB35-30-…
For MRCD applications in combination with a circuit breaker
AC/DC sensitive measured value acquisition type B
For personnel protection applications
Insensitive to load currents due to magnetic full-screen
The AC/DC sensitive residual current monitoring module RCMB35-30-… is used for residual current monitoring in earthed systems (TN and TT systems).
It detects direct and/or alternating fault currents. The switching output opens as soon as a response value of 30 mA is reached.
By the application of an RCMB35-30-01 and a switching component with isolating properties this device combination fulfils the requirements of DIN EN 60947-2 Annex M for an MRCD protective device. The switching component must not exceed a disconnection time of 20 ms.
Features
Applications
Accessories
Ordering information
Downloads
Realisation of a protective device in accordance with DIN EN 60947-2 Annex M in combination with circuit-breakers providing isolating properties
Integral switching output for controlling an undervoltage release
Combined test and reset button
Monitoring of the connection to the measuring current transformer with cyclical test current
Insensitive to load currents due to a full magnetic shielding
Multicolour LED indicating operation, response value exceeded and fault detected
AC/DC sensitive measured value acquisition
Response value IΔn ≤ 30 mA
Rated frequency range
RCMB35-30-01: 0…1 kHz
RCMB35-30-02: 0…10 kHz
Supply voltage DC 24 V
Measuring current transformer, inside diameter 35 mm
Variants of LINETRAXX® RCMB35-30-…
| | | | |
| --- | --- | --- | --- |
| RCMB35-30-01 | DC 20.4…28.8 V | 35 | B94042100 |
| RCMB35-30-02 | DC 20.4…28.8 V | 35 | B94042106 |
* Absolute values
Downloads for LINETRAXX® RCMB35-30-…
| | Category | Product | Language | Date | Size | Download |
| --- | --- | --- | --- | --- | --- | --- |