Products
Operator control panels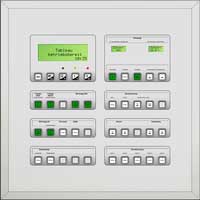 TM Series Alarm and control panels
TM-panels have become an essential tool to support medical personnel in hospitals. TM series alarm and control panels display messages on operation, warnings and alarms as plain text shown as individual multiple line texts on a LC-display.
On principle any type of message can be linked to an individual text via digital inputs, outputs or interfaces, respectively.
The text display comprises 20 characters for each of four items (8 mm high). The first three lines serve to display messages; the fourth line shows status conditions (date, time, account of actual error and warning messages). All text messages can be individually programmed.
Any single element belonging to one backlit pushbutton block may be individually programmed via PC-software. For example:
Switch

Pushbutton

LED

Acoustic message

Text message
The linking with the chosen input, output or interface, respectively, is realised with the free available PC-software TMK-Set.
This is a main advantage of TM-panels: Since there is no modification of the hardware necessary, changes of individually coded functions may later on be carried out easily and whenever needed.
Features
Applications
Accessories
Ordering information
Downloads
Clear messages due to a large text display allowing optionally additional text to further support personnel
Integration of other equipment via digital input, outputs with LED-status indication, relay outputs, opto-coupler outputs, integration in other bus systems, respectively
Up to 120 backlit pushbuttons available
History memory for 1000 warning and error messages
Programming of panel via USB-interface
Easy to clean sealed membrane surface
Protection class up to max. IP54
Reflection-free antibacterial membrane surface
Labelling and colour of signal lamp caps exchangeable on-site
Integration into central entry of all warning and error messages via OPC-server (optionally)
Buttons to display additional texts, signal lamp test, clearing acoustic messages, read-out of history memory
Integration of many 3rd party equipment behind membrane surface
Hospitals
medical locations
Variants of TM Series Alarm and control panels
Downloads for TM Series Alarm and control panels
| | Category | Product | Language | Date | Size | Download |
| --- | --- | --- | --- | --- | --- | --- |