Products
Insulation monitoring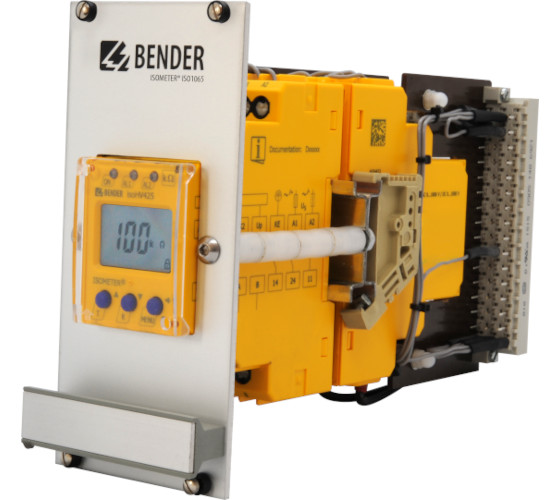 ISOMETER® iso1065 (IRDH1065)
Straightforward, fast replacement for the IRDH 1065
Monitor insulation resistance for IT systems and forewarn of cable degradation
Flexible and adjustable response value ranges
Customised pre-set threshold values
Two device variants available
The ISOMETER® iso1065 is an insulation monitoring device designed primarily for use in oil and gas applications monitoring the degradation in subsea cables and umbilicals. The device is suitable for monitoring insulation resistance on unearthed IT systems.
The iso1065 Line Insulation Monitor (LIM) is a direct replacement device for the obsolete IRDH 1065, designed to provide a quick and easy upgrade that requires no additional equipment during installation.
There are two variants of the device, the iso1065 and the iso1065-M with analogue output.
The device has an LCD user interface to provide an accurate system overview and allow simple and intuitive parameterisation of all connected devices.
Features
Applications
Ordering information
Downloads
Monitoring the insulation resistance for unearthed IT systems
Measurement of the mains voltage with undervoltage and overvoltage detection
Measurement of DC system voltages to earth
Automatic adaptation to the system leakage capacitance
Selectable start-up delay, response delay and delay on release
Two separately adjustable response value ranges
Alarm signalling via LEDs, a display and alarm relays
Automatic device self-test with connection monitoring
Measured value indication via LC display
Password protection to prevent unauthorised parameter changes
Communication methods - RS-485 (galvanically separated) including the following protocols:
Modbus RTU
BMS interface (Bender measuring device interface) for data exchange with other Bender components
IsoData (for continuous data output)
Designed for use in subsea applications such as cables and umbilicals
Variants of ISOMETER® iso1065 (IRDH1065)
Feature
iso1065 / iso1065-M
AC/DC systems
✔
Additional overvoltage and undervoltage protection
✔
Measurement of DC voltage to earth
✔
Maximum system leakage capacitance
150 μF
Selectable start-up/response/release delay
✔
Two separately adjustable response value ranges
10...500 kΩ (Alarm 1, Alarm 2)
Alarm signalling via LEDs
✔
Measured value indication via a multifunctional LC display
✔
Selectable N/C or N/O relay operation
✔ via termination/user interface
Password protection
✔
Analogue output
iso1065-M variant
•Voltage output DC 0…10 V, load ≥ 20 kΩ
•Current output DC 0/4…20 mA, load ≤ 130 Ω
•Current output DC 0…400 μA, load ≤ 3 kΩ
RS485
iso1065 variant only
Part numbers
iso1065 or iso1065--M
Downloads for ISOMETER® iso1065 (IRDH1065)
| | Category | Product | Language | Size | Download |
| --- | --- | --- | --- | --- | --- |