Products
Insulation monitoring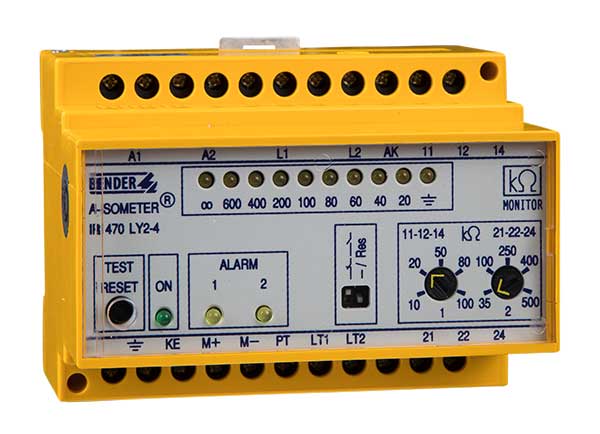 ISOMETER® IR470LY2-4061
Insulation monitoring device for AC IT systems and de-energised loads
Automatic activation of the function for de-energised loads
According to IEC 61557-8
Two separately configurable response values
LED bar graph indicator for insulation resistance
The ISOMETER® of the IR470LY2 series is designed to monitor the insulation resistance of unearthed AC and three-phase systems (IT systems) AC/3(N)AC 0…793 V. Two separately adjustable response values/alarm relays allow a distinction to be made between "prewarning" and "alarm". In combination with a coupling device the device series can be used for higher voltages.
The systems to be monitored should not contain DC components. Due to the measuring principle, insulation faults behind directly connected rectifiers are indicated with increased response sensitivity. The set response values apply to the pure AC system only.
The product has been discontinued
Do you already know our new product generation:
Features
Applications
Accessories
Ordering information
Downloads
Insulation monitoring for AC, 3(N)AC systems 0…793 V (IT systems)
Nominal voltage extendable via coupling device
Two separately adjustable response values 10…100 kΩ/35…500 kΩ
Connection monitoring system/earth
LEDs: Power ON LED, LED to signal AC insulation faults
LED bar graph indicator for the indication of the insulation resistance
Connection for external kΩ indication
Combined test and reset button
Two separate alarm relays with one potential-free changeover contact each
N/O or N/C operation, selectable
Fault memory behaviour, selectable
AC, 3(N)AC main circuits (without directly connected rectifiers), such as motors, pumps, rolling mills without variable-speed drives, air cooling and air conditioning systems, lighting systems, heating systems, mobile generators, building services, domestic electrical installation practice, etc.
Optional accessories for ISOMETER® IR470LY2-4061
External kΩ measuring instruments
| | |
| --- | --- |
| 7204-1421 | B986763 |
| 9604-1421 | B986764 |
Coupling devices
| | | |
| --- | --- | --- |
| AGH204S-4 | AC 0…1650 V | B914013 |
| AGH520S | AC 0…7200 V | B913033 |
Variants of ISOMETER® IR470LY2-4061
| | | |
| --- | --- | --- |
| IR470LY2-4061 | AC 230 V | B91048052 |
Other supply voltages on request.
Downloads for ISOMETER® IR470LY2-4061
| | Category | Product | Language | Date | Size | Download |
| --- | --- | --- | --- | --- | --- | --- |