Products
Current transformers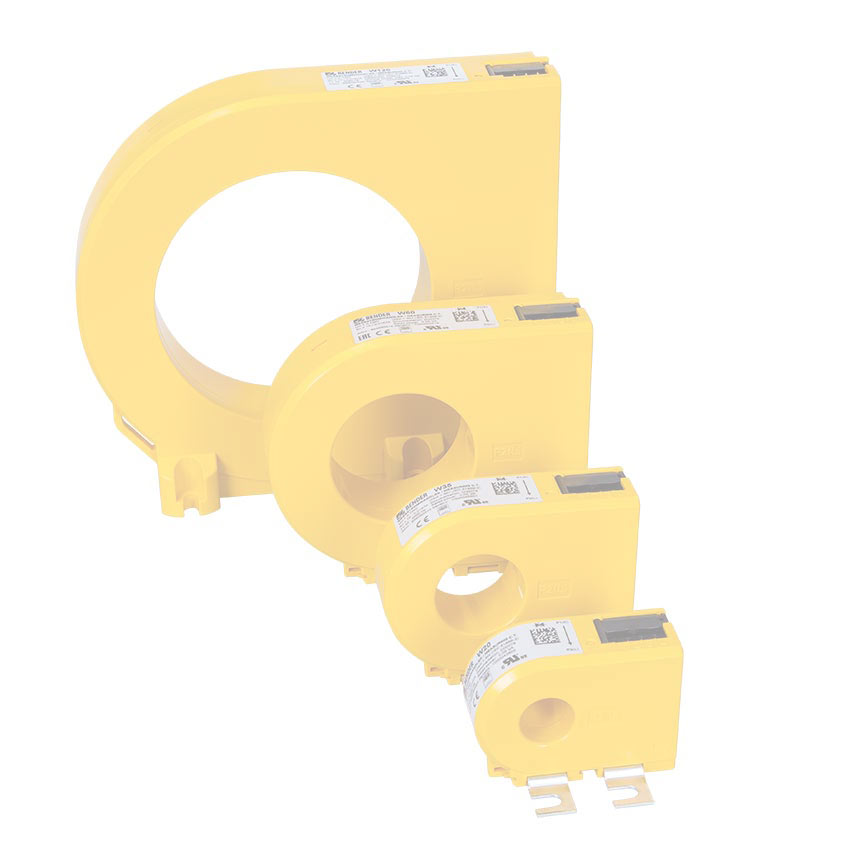 W…/W…-8000 series
W… and W…-8000 series measuring current transformers of the are highly sensitive mea­suring current transformers which measure AC currents and convert them into evaluable measurement signals, in combination with RCM series residual current monitors resp. RCMS series residual current monitoring systems.
In addition, the measuring current transformers can be used in combination with insulation fault locators (EDS) for IT systems. They are designed to measure the test current generated by a PGH locating current injector or an ISOMETER® IRDH. In combination with EDS series insulation fault locators the test current is converted into evaluable signals.
Connection to the respective devices is via a two-wire cable.


Features
Applications
Accessories
Ordering information
Downloads
W… measuring current transformers
For RCMS460/490 residual current monitoring systems
For RCM420 residual current monitors
For EDS440, EDS460 and EDS490 insulation fault locators


W…-8000 measuring current transformers
For EDS441, EDS461 and EDS491 insulation fault locators
for insulation fault locators (EDS)
Optional accessories for W…/W…-8000 series
| | | |
| --- | --- | --- |
| Snap-on mounting for W20-W35, W20-W35-8000 | 43.5 mm | B98080501 |
| Snap-on mounting for W60, W60-8000 | 50 mm | B98080502 |
Variants of W…/W…-8000 series
| | | | | |
| --- | --- | --- | --- | --- |
| W20 | 20 mm | × | × | B98080003 |
| W35 | 35 mm | × | × | B98080010 |
| W60 | 60 mm | × | × | B98080018 |
| W120 | 120 mm | -- | × | B98080028 |
| W210 | 210 mm | -- | × | B98080034 |
| W20-8000* | 20 mm | × | × | B98080009 |
| W35-8000* | 35 mm | × | × | B98080017 |
| W60-8000* | 60 mm | × | × | B98080027 |
* For EDS461/491 and EDS473/474 series insulation fault locators
Downloads for W…/W…-8000 series
| | Category | Product | Language | Date | Size | Download |
| --- | --- | --- | --- | --- | --- | --- |