Know-how
TN-S systems
Testing TN-S systems without interruptions
Testing and measuring the insulation resistance. Shutdown for testing?
In order to carry out normal insulation tests, electrical installations and equipment to be tested have to be switched off – a time-consuming and costly task, which is virtually impossible in installations where high availability is required.The German Social Accident Insurance DGUV regulation 3 and the DIN VDE 0100-600: 2017-06 standard allow the use of a permanently installed residual current monitoring system (RCMS) as an alternative to shutting down an installation. In this case, suitable proof has to be provided which is possible by means of an RCMS memory file.This means that the test protocol on the insulation resistance required by the DGUV Vorschrift 3 (German Social Accident Insurance) is automatically generated.
The use of a permanently installed RCMS offers plant operators a safe solution for measuring without shutdown.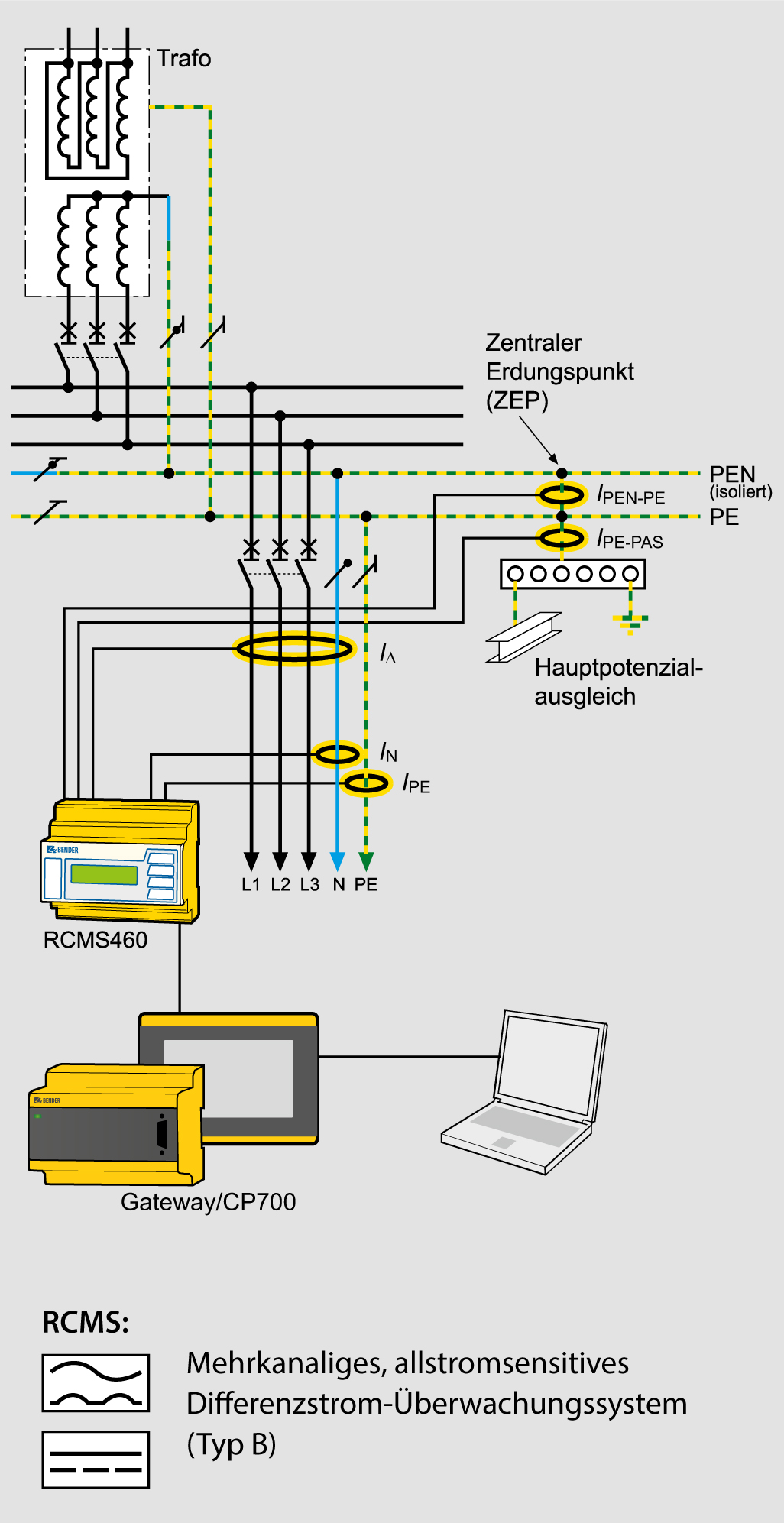 Visualisation of faults
In the case of selective installation of residual current transformers all existing insulation faults can be simply displayed and evaluated on the local display but also via a gateway or at the control centre.
An easy comparison of costs
How much are the annual costs for plant shutdowns and manual measurements by service staff? The installation of 12-channel RCMS systems are generally much less expensive and pays off more from year to year. Already the annual costs for measurements by service staff generally cover the cost of materials of an RCM.
Continuous monitoring – Protection for people and equipment
According to the German Social Accident Insurance and the German Technical Inspection Authority, the requirements for continuous monitoring of stationary systems and electrical equipment are met when metrological measures are applied for measuring the insulation resistance and the residual current. Any existing insulation problem is reported immediately and automatically forwarded to a central location and is then inspected and remedied, if necessary, by an electrically skilled person.
If these conditions are met, the inspection intervals for insulation measurement can be adapted to practical application during the next periodic test in energy distribution systems and industrial plants.
Cost certainty
Continuous monitoring saves time and money
Measuring without switch-off, operation continues to run
Maintenance measures can be planned
Central access via web browser saves time and effort
Legal certainty
Continuous overview of the system, continuous measuring and monitoring of all electrical equipment connected
Automatic alarm message at a central point
Documentation and records via history memory and data logger
Fail safety
Continuous measuring instead of one measured value per test
Remote diagnostics possible via Internet/Ethernet
Fast visualisation of measurement data
Early detection of insulation deteriorations
Fault detection during installations and maintenance
• Reduced fire risk
Analysing and Reporting: